On Wednesday, May 21st, we hosted a Google Partners "exclusive" event at our office. From start to finish, the event was… odd. The "exclusive" part is eluding me entirely, as it was open to anyone with a computer. Google promoted it as a big exclusive event, without noting that it was a webinar. They supplied us with advertising that didn't mention it was a webinar – which we decided not to use – and a Chromecast for viewing.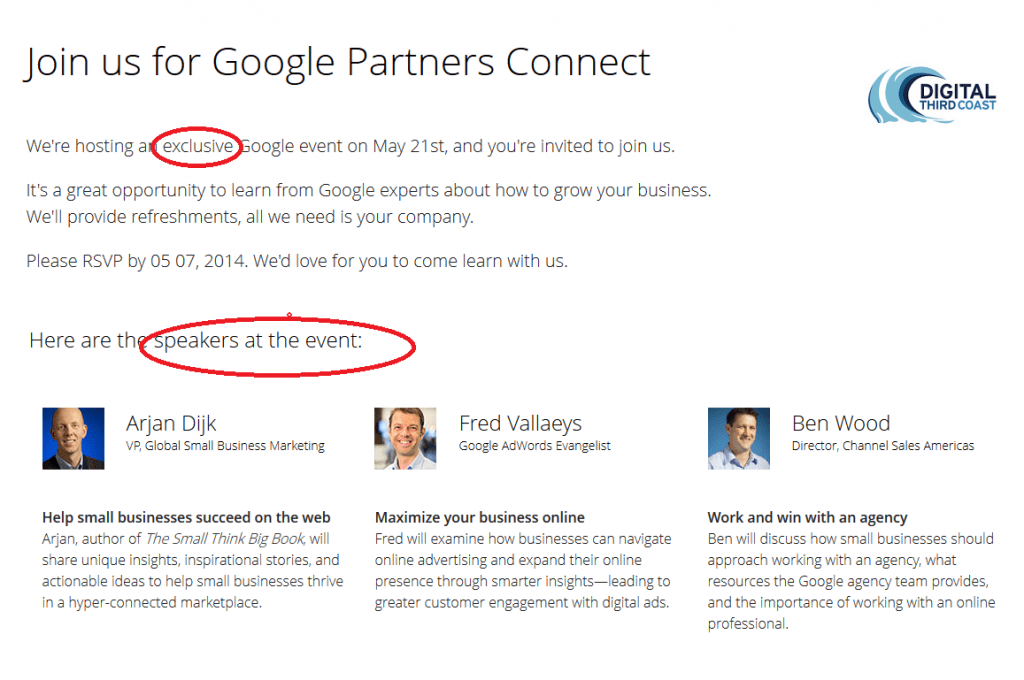 With amazing minds like Arjan Dijk VP, Global Small Business Marketing, Fred Vallaeys, Google AdWords Evangelist, and Ben Wood Director, Channel Sales Americas, we were hoping to learn – a lot. Below are the key takeaways with our side notes:
Arjan Dijk VP, Global Small Business Marketing
Key takeaways:
Identify your Voice.
How to interpret "big data": Arjan suggested only looking at data that is relevant to you, and not get lost in all the data that is available.
The internet allows a small business to expand regionally, nationally, and even internationally.
Identifying your voice is actually something we see SMBs struggle with. The only way to compete with big business is to promote your differentiators – are you closer? Do you have better service? Can you respond faster? Why do you exist? Finding your voice is critical to your marketing strategy. A great point, but fairly basic.
Fred Vallaeys, Google AdWords Evangelist
Key takeaways:

"Google connects users with websites at the moment of relevance"- I love this.
It all starts with keywords.
Optimize your website for a great user experience (not robots).
Get listed in directories and get reviews. (90% of consumers say reviews influence their purchases, but 55% of businesses have ZERO reviews.) If you get a negative review, your response is actually more important than the negative review itself. Don't duplicate reviews from one site to another (ie Google+ to your site).
Keep content fresh and engaging
Use Google Webmaster Tools
Take advantage of all SERPs features (the local carousel, product listing ads, ad extensions, maps results, and authorship)
Use Google AdWords, Google Trends, and Google Alerts
For AdWords, spend at least $50/day
While all this information is fairly accurate, it was again very basic, and there was a lot of pushing of Google's suite of products. Also, getting listed in directories is questionable advice – especially if you don't specify what a "good" directory is. Further, there were suggestions to solicit reviews by offering discounts – something we've been advised strongly against, by none other than Google.
Ben Wood, Director, Channel Sales Americas
Key takeaways:
What to expect from an agency:
Regular Reporting
ROI
Optimization
Insights
Strategy
Questions to ask an agency: What service will you provide?
Area of specialty
Results to expect
Agency fee structure
References and Case Studies
Again, these are all true, but we're wondering who didn't know this. Are there agencies out there that can continue running without doing and providing the things he listed? The event was set up for agencies and SMB clients. Our team and partners overall felt they didn't learn much, and this might be a better session for someone just starting out, having never explored the possibilities of digital marketing yet.