Are your traditional PR strategies failing to earn you the type of media coverage and brand building you desire? Do you struggle to identify the best ways to improve your visibility?
We've found that many niche companies encounter these issues. Sometimes, the solution can be found by realigning their understanding of media outreach strategies. What many think can only be accomplished by direct promotion of products and services, can often by achieved through indirect digital PR practices.
In our experience as a content creating agency, we've found that original research is often more effective than promotional press releases when it comes to getting journalists and national publications to write about your business.
Why is Your Business Getting Zero Media Coverage?
Businesses understand the importance of media coverage, but for some, earning press coverage seems particularly difficult. To generate "buzz," many try traditional outreach methods including press releases, newsletters and other promotional content. But what if that doesn't work?
What if your business doesn't get any media coverage?
3 reasons why traditional PR isn't earning you digital media coverage:
Too competitive: Your business exists in a competitive vertical. Compared to other companies you're either too small, one of too many, and securing attention feels like a David and Goliath battle.
Too niche: Your business and messaging is too narrowly focused to attract the attention of popular and general news publications (television, radio, local newspaper).
Too promotional: The content you're pitching is overly promotional. As a result, it comes across as an advertisement rather that substantive content.
For many B2B companies, failure to earn media coverage is the result of a combination of any or all three of those factors. Which begs the question: What PR strategies capture the attention of relevant journalists for your goals?
How to Get Journalists to Write About Your Business
Before going over the types of content that journalists do want to write about, it's equally important to understand what they don't want to cover.
Journalists are fundamentally opposed to promotional content. Press releases that offer little narrative depth come across like requests for free advertising, which can be problematic in two ways:
Media doesn't give away free advertisements – Many traditional news organizations are in desperate need of paid advertisements to stay afloat in a shrinking media landscape. A press release that seems too advertorial has a greater chance of being met with a request for sponsorship than it does with actual coverage. Sponsored articles are branded as paid content, and often featured more like advertisements than true news coverage.
One-sided benefit – Overtly promotional press releases are more likely to just be overlooked since they exclusively benefit to the business. Without context about impact, there's no news value to the publication's audience.
A successful public relations strategy promotes content that journalists are interested in — content that satisfies their quest for new, interesting and relevant information for their audience.
As a digital marketing agency specializing in niche digital PR services, we've found that the most well-received content is, by and large, original research.
What Does Original Research Look Like?
Original research can take many shapes and forms. We focus on four primary types of original content for our clients: search behavior analyses, data research, surveys, and soical media analyses.
These four basic research structures allow us to produce content that is tangentially relevant to each client's industry, while avoiding the promotional pitfalls of focusing exclusively on their services and products.
We fight the promotional tendencies of traditional PR by producing research that meet the values of newsworthiness. In doing so we are able to accomplish the brand-building goals of public relations, but in an indirect fashion.
What is Newsworthy?
When thinking about what makes something newsworthy, you have to think about the targeted audience. Newsworthy characterizes any event, story and occurrence that the audience of a given publication would find interesting.
For publications like NBC News or the New York Times, whose audiences span the United States, standards for newsworthiness are more all-encompassing. Newsworthy stories cover a broad range of topics, from national and international news, business and consumer trends, and major current events.
Industry-specific media outlets, on the other hand, would find an entirely different set of pitches newsworthy. An automotive magazine wouldn't write about a new medical breakthrough, but they would find a recent safety study about the effectiveness of a certain mechanical technology to be newsworthy.
Eight news values that make your content "newsworthy"
The more elements of news value something has, the more "newsworthy" it's deemed. Generally speaking, the world of journalism accepts eight elements of newsworthiness: impact, prominence, timeliness, proximity, currency, human interest, conflict, and the unusual.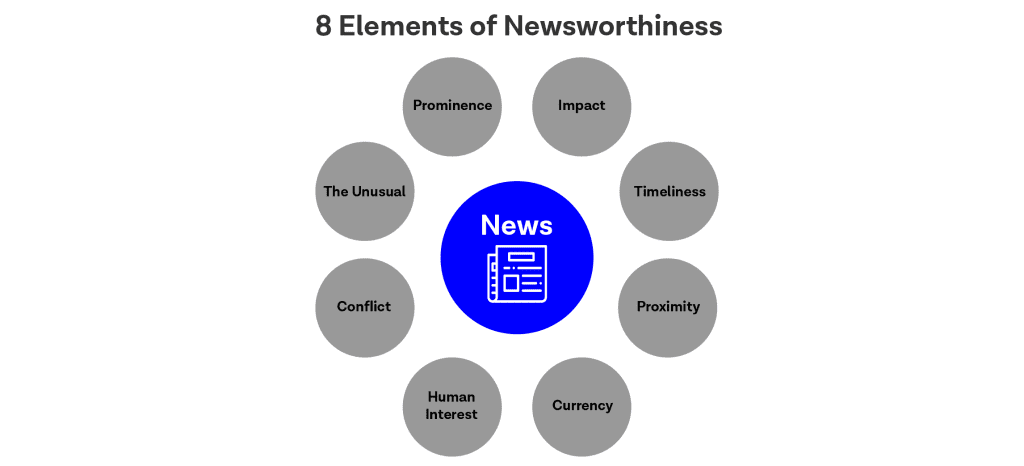 Original research satiates a journalist's hunger for something new, relevant, and current, while establishing yourself, or your business as an authority on a newly published report.
Timeliness: It's inherently "new" or "just released"
Currency: Capitalizing on popular economic trends, holidays, human or consumer behavior meets this tenant.
Human Interest: The focus of the content answers a question that the masses can relate to.
Proximity: Add a local component to your research. Find data points that are specific to individual cities or states so that the news story is relevant to both wider and smaller audiences.
Impact: Create data that feels important or noteworthy to a journalist's audience.
How do you Make Newsworthy Content?
The question you may now be asking is, how can my business create newsworthy content?
Many believe they have to produce content that directly relates to their services, products or brand. After all, they're experts in their field. But under this assumption, it can be a struggle to create original research that is both relevant and newsworthy.
But there's a type of original research that strikes a balance between business relevancy and newsworthy: Tangential content.
What is "tangential" content?
Tangential content looks at the sphere in which your business operates and identifies tangentially related subjects that fall within the surrounding sphere.
We help our clients publish and promote this exact type of original research and have seen tremendous results. In 2019 alone, we earned 3,083 media placements across 2,016 unique outlets across the United States and overseas.
Tangential content falls within the realm of expertise that your company may have. But because it doesn't directly talk about your business or services, tangential content can more readily meet the standards for newsworthiness than typical content marketing efforts.
Don't believe us? Here's all the proof you need:
A financial consulting company hired us to handle their digital PR and on-site SEO strategies. Their focus within the larger financial services industry was pretty niche.
Now, if we operated in the realm of traditional PR, we would want to create content directly related to their services, their team, or their accomplishments. Examples of highly relevant content could include:
Press releases about their specific clients' growth and successes
An analysis of the technology industry
A how-to about investing strategies
Now, those topics sound like something you'd come across on NBC News or USA Today? Most likely, no. They're too narrowly focused. They're slightly promotional, and they'd only be considered newsworthy to a very small number of writers.
If we move into the realm of link building digital PR, tangential content reigns supreme. We're able to broaden the scope of relevant content topics, to a much larger pool of tangential ideas. In doing so, we're able to enlarge the size of the potential audiences and publications that would be interested in the content.
The original research we created with the client consisted of a 2,000 person survey about monthly subscription fees. The survey revealed that most consumers grossly underestimate their monthly expenditures for things like cable, WiFi, subscription boxes and streaming services by 88%.
The content had earned 113 linking placements in the likes of CNBC, USA Today, Forbes, NBC News, and the Wall Street Journal.
One of the main reasons this study earned such widespread media coverage was because of its balance of tangential relevancy and broad news interest.
Had we been limited by the constraints of traditional PR and forced to create original research directly related to the client's work, we would not have been able to produce a piece of content that most Americans, and subsequently most general news publications, would relate to.
Align Your Content-Creation to Your Goals
At the end of the day, the content has to match the goal.
If a company wants to increase brand awareness within their industry, get their name out there among potential customers, or garner some "good PR," then traditional PR tactics and promotional content may work to accomplish that goal.
However, if a company's goal is to attract widespread media attention and increase their visibility, but that company has a narrow focus, less name recognition, or niche services, it's nearly impossible to earn that type of broad coverage by producing exclusively relevant content. Digital PR can open the doors to media coverage by larger, and more authoritative, publications by allowing companies the freedom to create content that is more newsworthy and less promotional.
Read more from our blog…
The Digital Marketing World Reacts to ChatGPT

We analyzed 700+ social media posts to find out how the digital marketing world, SEO, Paid Media, and Digital PR specialists are reacting to ChatGPT – the latest AI content generator.

2022 Digital PR: A Year in Review

In 2022 we launched 139 digital PR campaigns and earned more than 6,200 placements. Here's a look back at our content campaigns and the publications that featured them.

Why Journalists Love Consumer Stories in Digital PR Content

Why you should consider consumer-focused content for your next digital PR campaign.